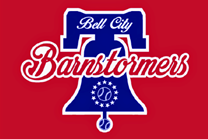 The Barnstormer Baseball Organization is an opportunity for young baseball players to improve their skills in an environment with helpful, experienced coaches that are willing to work with your son's in every aspect of the game. The Barnstormers philosophy is to nurture young athletes into mature human beings and also the best baseball players they can be. With the use of our indoor facility coupled with outdoor practices and games we believe that every player has a potential to reach high levels of success. The Barnstormer Organization is dedicated to making your son's experience the best it can be. Playing regular scheduled games along with travel tournaments we believe that all skill sets can improve. Not only do we want successful baseball players but also successful people after they move on from our organization.
Fall Ball philosophy and modified schedule:
The Barnstormer Organization is excited to offer a Fall Ball experience for those players aged 10u, 11u, 12u, 13u, 14u, & 15u who may or may not be playing another sport, or simply for those that want to improve their baseball skills. Fall ball is an instructional type format of baseball where practices and limited games are the bulk of the schedule. The season runs from September 7/8th through October 23rd/24th. Travel in the fall is limited if not non-existent. Fall is mainly for repetition of skills while developing and adapting to game play situations. Typically the cost for such a season is much less with the uniform being a scaled down version of the summer uniform. As with any team, playing time is not equal, however at this time of the year many teams will always play every player and will likely have the opportunity to play players in several different positions. This allows each individual player an opportunity to experience as many situations as possible. Many times during fall ball players will move from level to level if necessary or if the coaches would like an opportunity to see the skill sets of certain players.
Barnstormer instructional and individual opportunities for improvement:
Like many organizations the Barnstormers are no different. Although the tuition for the Barnstormers covers your immediate season of play there are of course other skill building sessions to choose from. We have an in house instructor Mitch Rossi, former collegiate athlete who gives offensive/defensive individual lessons. We also offer strength and conditioning lessons with our in house certified instructor Brett Bisson. All of these services are provided over and above the cost of single season tuition. As you will find with most other organizations this format is standard procedure. Our facility known as the Bristol Sports Armory is more than just an indoor baseball facility. For many of the months out of the year our facility is a major hub for basketball tournaments and functions outside of baseball. We host events like skills camps, team practices, volleyball camps and many more. We essentially are a multi use indoor facility, the indoor turf is not on the floor all year long, so even if outdoor practices get cancelled due to weather oftentimes we have other uses going on inside our gymnasium.
Fall: After Labor Day – October 17
Teams 10u (Little league diamond)
11u 50/70
13u Development, players transition to 60/90
14u 15u 1-3 games mainly on the weekend if one game then we will also have a practice
1 outdoor mid week practice
1 Cage Session during the week
The Emphasis is to keep sharp, have fun and try different things. We will also take players up and down per age group, while also evaluating for the Spring and Summer. We try to keep numbers on teams down to play everyone.
Strength & Conditioning:
November/December
This is a good time to put the bat and ball down and work on strength and agility. We will offer opportunities through the armory for strength training curtailing workouts to players of different ages.
Winter Workouts:
January – March
We offer Indoor Camps and Clinics through the Bristol Sports Armory with our instructors. We have pitching clinics as well as open hitting sessions. These camps range in prices and times. We do offer personal one on one instruction as well for an additional fee. He will also offer a strength and conditioning program as well in this time frame.
Spring Season:
March – Memorial Day
13u Development, players transition to 60/90
14u
While high school players are not allowed to participate in the season, our middle school players can play weekend games and also have weekday practices. Most players can play for the middle school team and practice and play with us over the weekends.
Summer Baseball:
When High School is over – August 1
Teams 10u (Little league diamond)
11u 50/70
13u Development, players transition to 60/90
14u and 15u (Teams may be reorganized from the spring and players may be double -rostered)
Our developmental teams will play games and participate in a few tournaments throughout the summer. Our advanced teams will participate in 6-7 tournaments, play a few mid week games and practice and hit during the week 1-2 days. After the high school season the emphasis is on game play and staying sharp during the week.